Concept
The development of modern technology has been turning millions of people into glasses wearers. Once they put their glasses on, they get more and more dependent on them. Badly do they need their glasses, however, they still need to take them off and relax their tense eye muscles every now and then. And here comes the problem. When we take off our glasses and walk away, we might end up looking everywhere for them when we come back minutes later. It's not because we forget where we have put it. It's because we didn't like to bear it in mind.
This eyewear is designed for people who have to sit in front of a computer screen from dawn to dark. The slidable lenses design reminds one to take some time and relax his/her eyes during work. Thanks to this design, people no longer need to take off and put away their glasses before relaxing their eyes. Just slide open and enjoy the greens outside! There won't be any trouble looking for the glasses afterwards.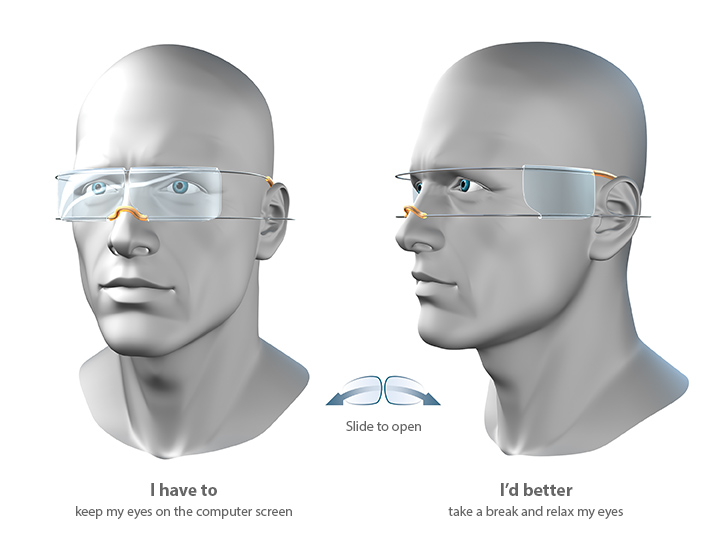 Structure
The lenses made from special material can keep away radiation and weaken overbright digital light that do harm to one's eyes. The frame, made of stainless steel, shaped like 2 rails, holds the lenses firmly and, at the same time, lets them slide between. Small bulges along the rail acts as anchors for the lenses.
Say goodbye to those annoying "Lost and Found"s! The glasses are always with you. Simply slide back the lenses and there you can get back to business.