Objective
Design a HOME for migrant workers from rural areas, who have been making significant contributions to urban construction, but rewarded little and even discriminated by urban residents because of their social status. The HOME, carrying the most sincere care from urban governments, is more than just a physical shelter for them to live in. It provides a portal that brings migrant workers and urban residents closer together, eliminating discrimination and building up understanding. The HOME should be serving as a vital element in the construction of a harmonised society.
Field Research
From the investigation in Guangzhou Train Station, and the data we collected on the Internet, we summarized a list of the difficulties that most migrant workers are likely to run into. After discussion, we decided to choose solving the difficulty on the emotional level "Lack of social relationship, lonely" as our goal in this competition.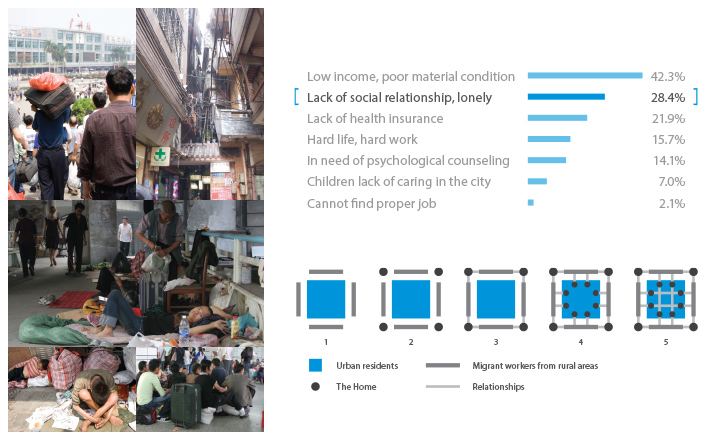 The graph above demonstrates how the HOME for Migrant Workers functions in the process of constructing a harmonised society:
Migrant workers come from all over the country to the city.
The HOME for Migrant Workers is established.
The relationships among migrant workers, who come from different areas, begin to form, making them a more united group that they are willing to share information, resource, knowledge and happiness with each other.
The relationships infiltrates into urban residents who are beginning to understand, accept and welcome migrant workers as important members of the city.
The harmonious relationships between urban residents and migrant workers continue to develop in breadth and depth, and the foundation of constructing a harmonious society is becoming stronger and stronger.
Photos taken by our team during the investigation in Guangzhou Train Station and several neighborhoods of Old Guangzhou City.
Migrant workers carrying luggage rushing from all around the country to Guangzhou hoping to earn a better living.
The ordinary poor living condition in the neighborhoods of Old Guangzhou City.
Some migrant workers home beneath one of Guangzhou's most aged skyway bridges.
Migrant workers often receive discrimination from urban residents passing by.
Migrant workers in group waiting for labor hunters in the train station hall.
Defining HOME
The HOME for Migrant Workers is defined by our team as follows: It is like a transit terminal, where new migrant workers who have just arrived in the city can find shelter and training opportunities regarding not only the profession, but also how to blend in as a member of the city. The life as a member of HOME would gradually transform the migrant worker into a true member of the city both subjectively (the sense of belonging to the city develops) and objectively (discrimination from urban residents diminishes). Also, through this terminal, urban residents learn more about migrant workers. This would be a good beginning for many urban residents to rethink, tolerate and respect migrant workers.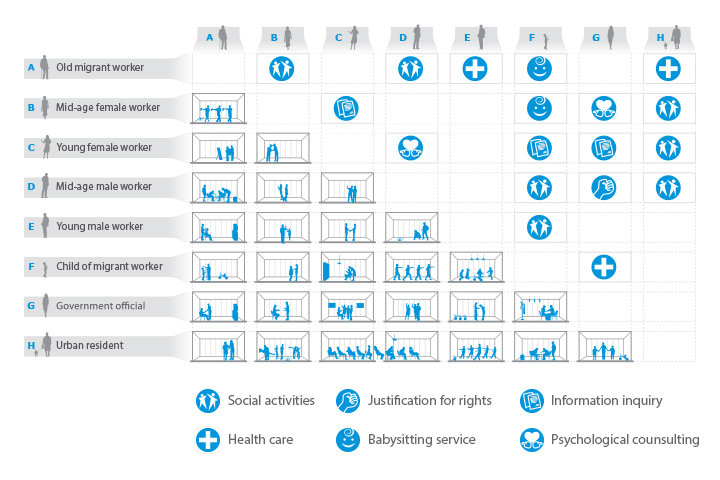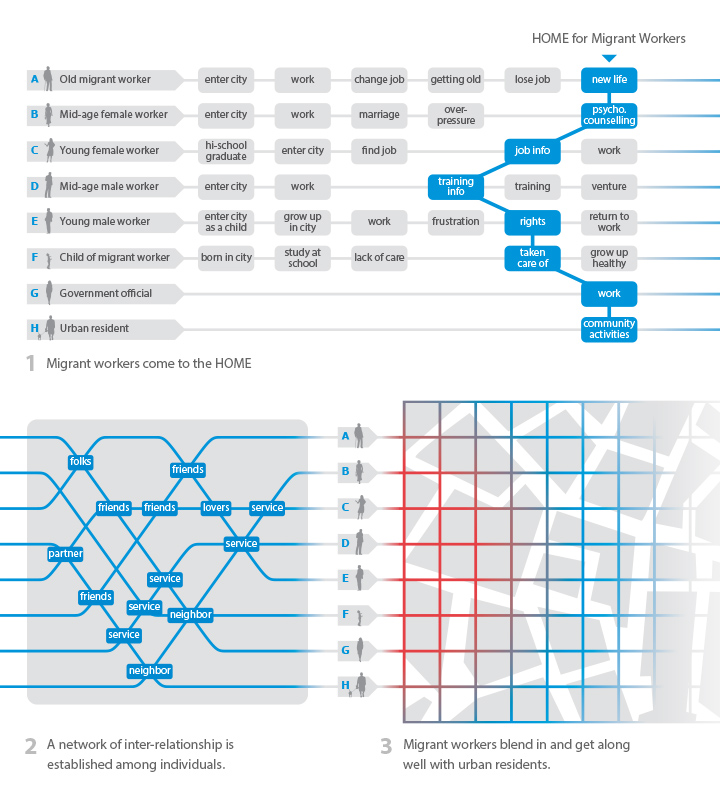 Basically, the HOME for Migrant Workers should possess the following features:
Environment friendly
Modernization for mass production
Easy transport and assemblage
Landform adaptability and distribution
Sustainable and endurance
Modular Prototype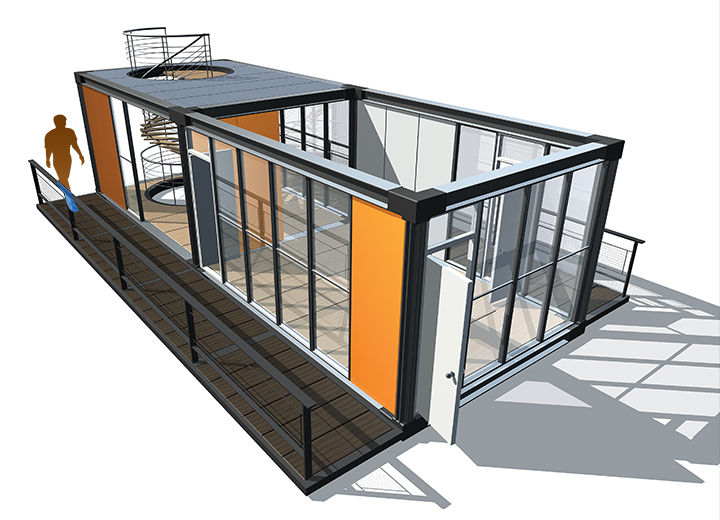 A single unit composites of 2 rooms, each of which measures interior 480cm (length) x 320cm (width) x 240cm (height).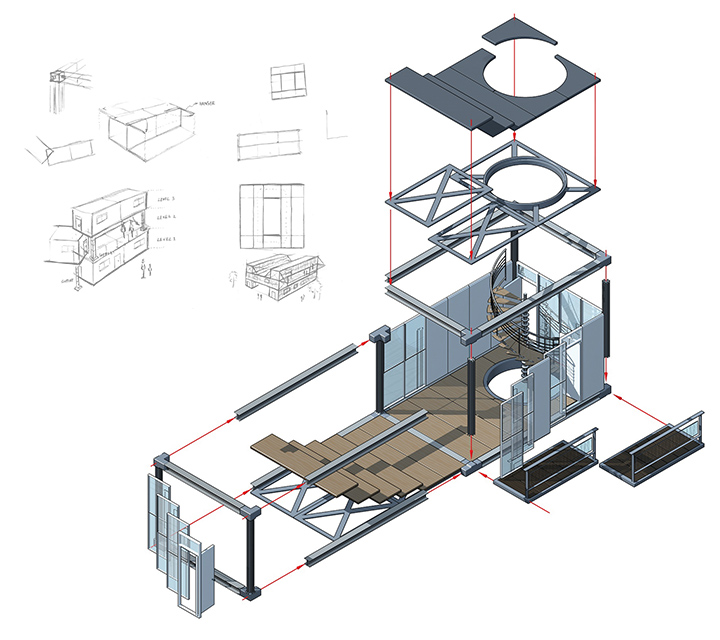 Exploded view of a single unit.
Five-Step Assemblage
The mass-production-ready and modularized structure made it possible for easy storage and transportation of the basic structures. Once the modularized components are transported to the construction site, workers can quickly and easily assemble them according to their needs. A cluster of rooms is made up of several same units. It is possible to transmit an in-use room, without destructing to raw components or taking out the interior, to a new site by hangers and container trucks.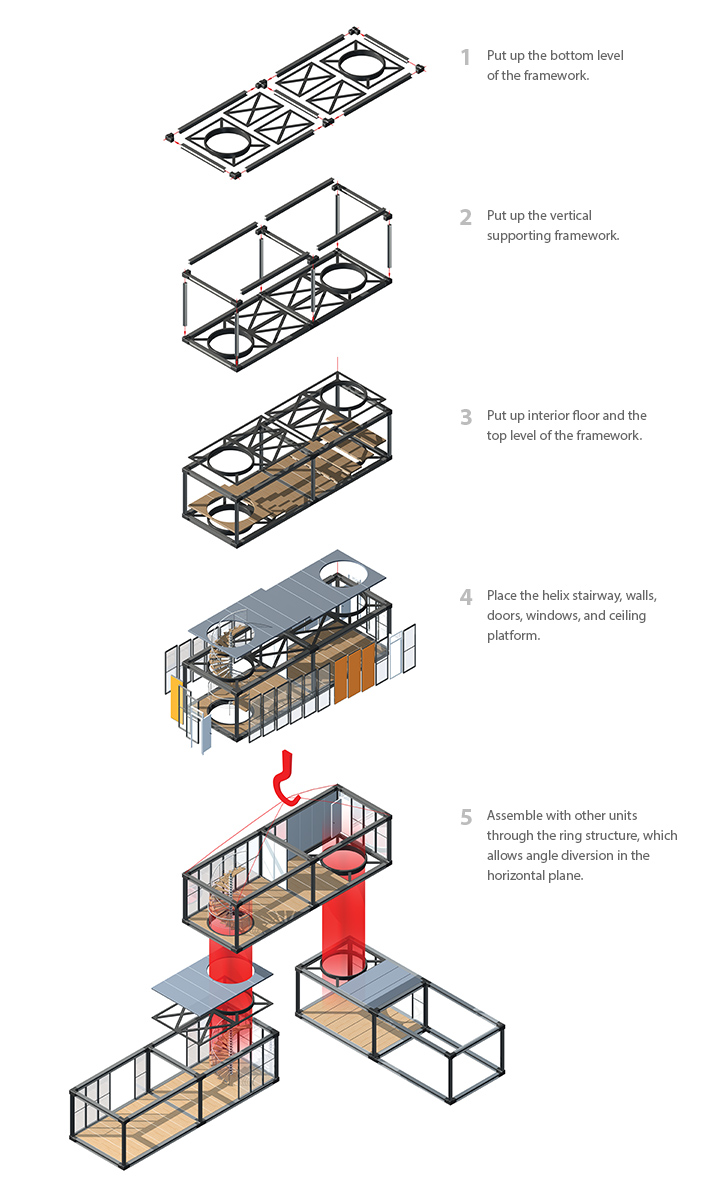 Modular Architecture


A snake-like cluster features two or more open squares. This type of clustering often has two or three levels while its units are distributed along a narrow line, adaptive to long and narrow sites.
porn videos tubeskanks.com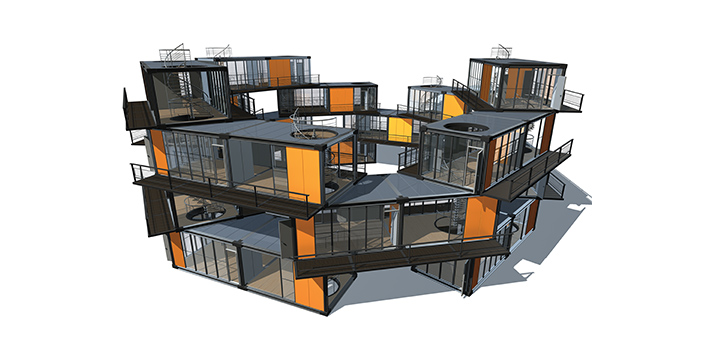 A matrix cluster features one central square.